The Living Christ - A Celebration of The Savior, Jesus Christ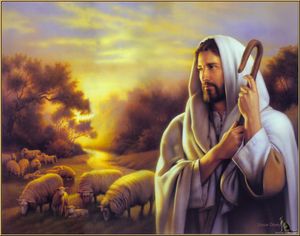 Chase Given is excited to present an all new musical  and visual event titled "The Living Christ", a Musical Evening Dedicated to Jesus Christ, His Church, and His People. This 1 hour presentation blends live music celebrating the life and ministry of Jesus Christ, as well as integrating filmed presentations of high profile Christians bearing testimony of the Living Christ. Chase's desire to be all inclusive in his presentation makes this a wonderful missionary event, regardless of the religious denomination. Chase has a great desire to Hasten the Work and bring Christ's church until it has penetrated every continent, visited every clime, swept every country, and sounded in every ear, until the purposes of God shall be accomplished, and the Great Jehovah shall say "the work is done!"
In addition to perfoming live music, Chase syncronizes video clips with the musical selections. Between many songs, you will see short videos of prominant Christians such as Thomas S Monson, Billy Graham, Tim Tebow, Gladys Knight and many others sharing their Testimonies of the Savior.
What People Are Saying:
"My wife and I were invited to attend The Living Christ performance recently. During the performance, we experienced  so many emotions. I felt that Chase captured each of the guests and how we feel about Jesus, but also introduced us to new stories and feelings. I would encourage my entire family and my friends to participate in this presentation.
Mark B.
Boise, Idaho    
"My stake hosted a missionary fireside of Chase's "The Living Christ" fireside in Goldsboro, North Carolina. At the time, Chase had shared his message with a few of the wards in our stake, and we felt it even more advantageous to welcome him to the stake center, and challenge the members of our stake to attend, and to bring a friend. There were many blessings for our stake that night. Our members and missionaries brought many friends who wanted to enjoy this evening. From the first moment of the fireside, we watched  President Gordon B Hinckley speak from Jerusalem, and the spirit engulfed the room. The music was gorgeous and the projections during songs made us smile, cry, and at times laugh, to moments that truly broke our hearts. Seeing several Apostles, as well as Billy Graham (a man so well loved and respected here in our area), as well as Tim Tebow, and my favorite was Gladys Knight. Some of my favorite musical moments in the fireside included "He Walked A Mile In My Shoes", a highlight from the Nashville Tribute Band, as well as my all time favorite hymn "Come Thou Fount". At the end, Chase offered all of those in attendance the ability to download the music from the fireside for free. My family has listened to that music, and relived the moments from the fireside so many times since then. I would recommend this message for Missionary Firesides, as well as Youth Events, Singles Events, and ward or stake fellow-shipping opportunities. This celebration of the Savior is perfect for many cultures, religions, and anyone who wants to learn more about their relationship with the Savior, Jesus Christ."
Franklin L Jones, Jr
Stake President - North Carolina Goldsboro Stake
The Church of Jesus Christ of Latter-day Saints
Upcoming Performances:
Schedule Yours Today By e-mailing chase@chasegiven.com or call (252) 258-5998!

Recent Presentations Performances Have Included:
Fruitland, ID
Boise, ID
Millcreek, UT
Midvale, UT
Orlando, FL
Riverside, CA
San Bernardino, CA
Anaheim, CA
Orange, CA
Roanoke Rapids, NC
Greenville, NC
Goldsboro, NC
Mt. Olive, NC
Rocky Mount, NC
Myrtle Beach, SC
Richmond, VA
& So Many Other Places Throughout The US!

If you are considering inviting Chase Given to perform "The Living Christ" presentation, but have a few questions, please click here and visit our FAQ page.
For More Information, or To Inquire About Scheduling This Presentation, 
Call: (252) 258-5998
or Email: chase@chasegiven.com